Prima dei The Kids
I GRUPPI DI JOHNNY
PRIMA DEI THE KIDS
Johnny Depp ha avuto la sua prima chitarra all'eta' di 12 anni.. Fu ispirato da suo zio Denny, evangelico, e dal suo gruppo gospel, ma solo più tardi comprese cosa la musica volesse dire per lui. Dopo aver imparato da autodidatta, in parte grazie al suo orecchio musicale ed in parte grazie al furto di un libro che insegnava gli accordi, Johnny entrò a far parte di una serie di band nel sud della Florida:
i Flame, gli Zaphyre, i Bitch, i Bad Boys, e Stiff Richard (probabilmente ha solo improvvisato con quest'ultimo) prima di iniziare ad essere il chitarrista leader della sua band dei sogni, The Kids.
Spostandosi a Los Angeles alla fine del 1983, The Kids cambiarono il loro nome in Six Gun Method..
Dopo che Johnny ebbe ottenuto il suo primo ruolo vero in un film, continuò ugualmente nella sua carriera musicale, persuaso di potercela fare ed assunse il ruolo di chitarra ritmica con il gruppo The Rock City Angels.
Una volta ottenuto il ruolo dell'agente Tom Hanson in 21 Jump Street, la carriera come attore di Johnny si poteva dire assicurata.
Ma lui amava ancora e più di ogni altra cosa suonare rock and roll con la sua band, i P, durante gli anni 90.
Qui troverete un riassunto dell sua evoluzione musicale, tratto dalla Life Story publication, del 2007.
(Notare che l'articolo contiene qualche piccola inesattezza, ma è comunque una lettura divertente).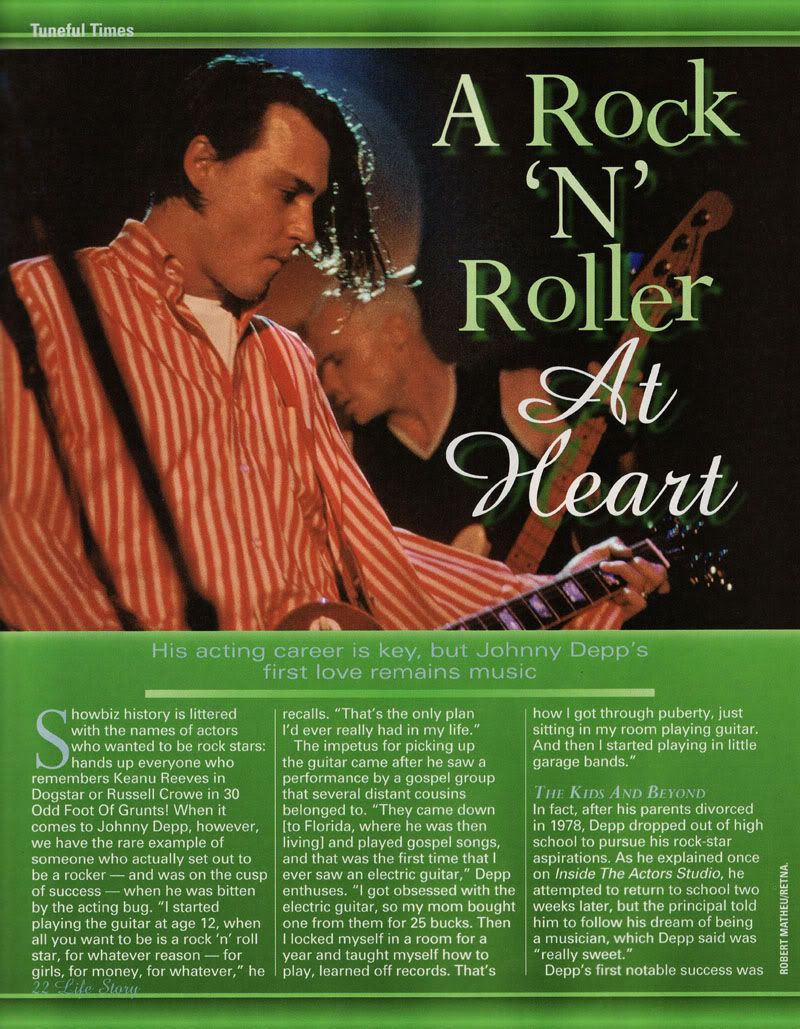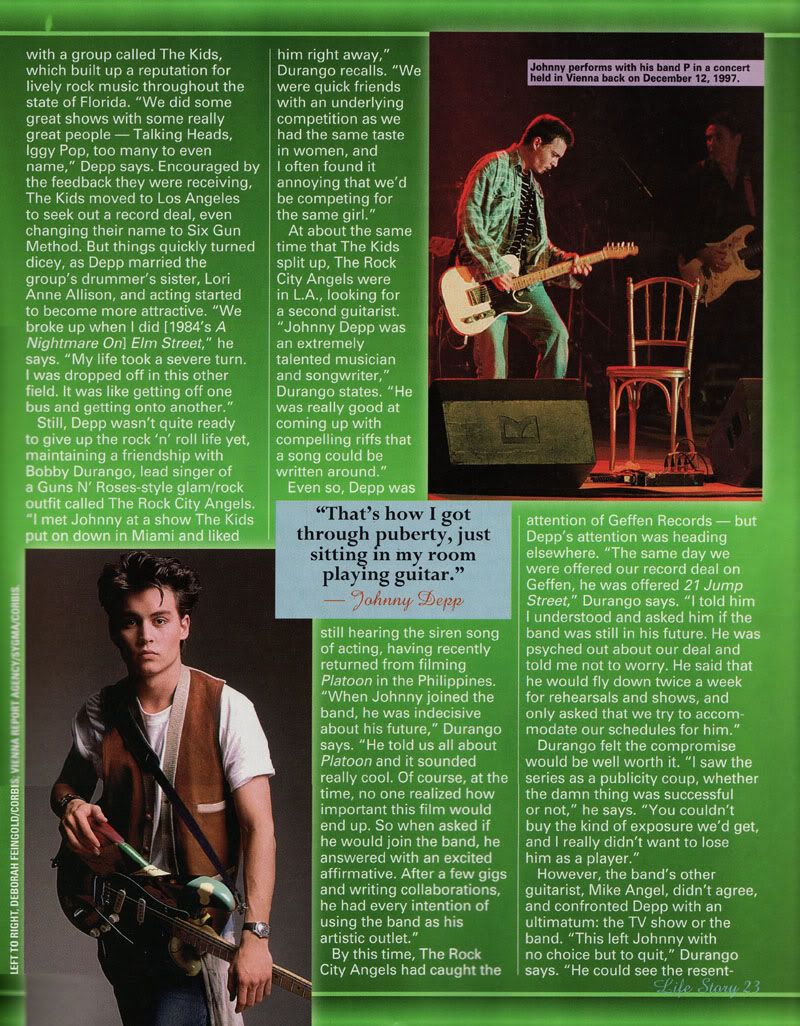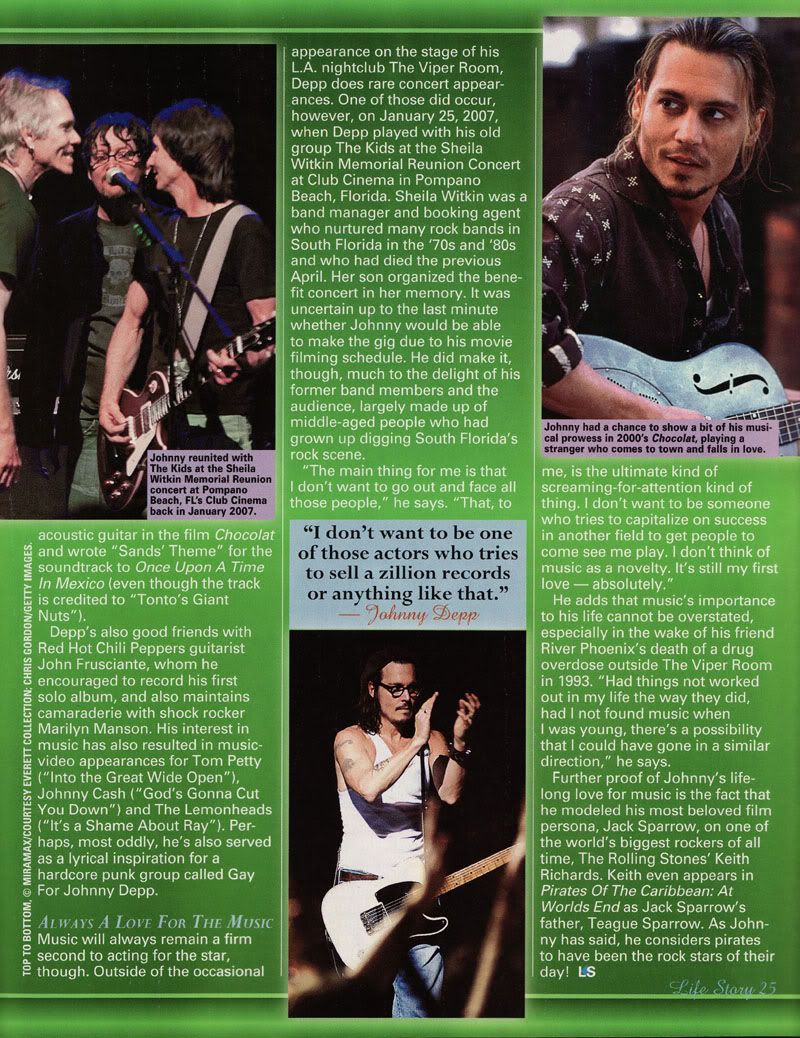 Qui troverete qualche informazione sulla storia delle band di Johnny.
Prima dei The Kids
Questi sono alcuni dei giornali che hanno parlato delle prime band di Johnny…
* March 1988 YM (Young & Modern)
* March 1988 16 Magazine
* 1990 Whopper
* April 1990 Interview (with John Waters)
* May 1993 Details
* December 2004 City & Shore
* July 2006 Rolling Stone
Dalla Biografia di Johnny Depp del 1989 di Randi Reisfeld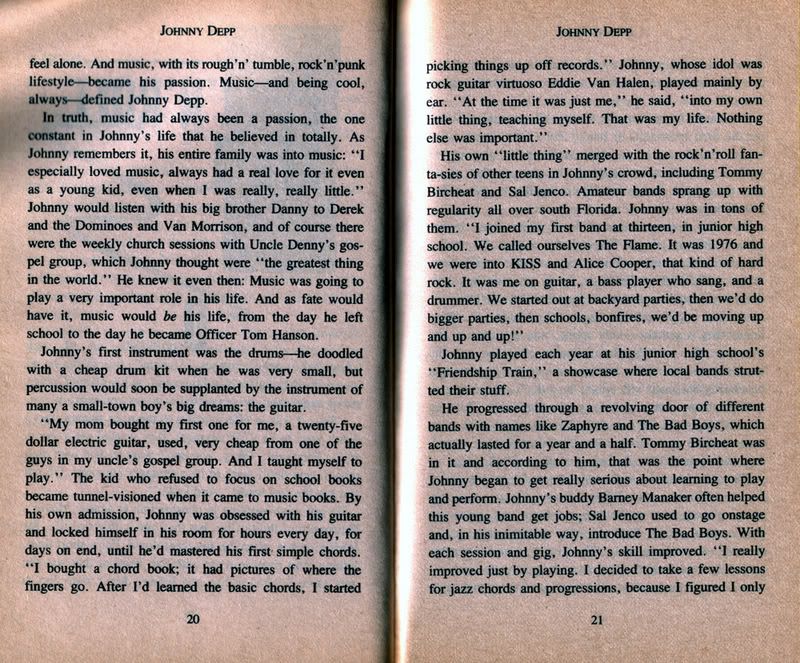 Johnny da' un breve riassunto delle sue bands nel numero del 24 gennaio 2008 del Rolling Stone:
Flame
Flame si formarono tra il 1976 e il 1978 , vicino a Miramar. La formazione del gruppo era:
* Bernie Pflum – batteria
* Joe Quinones – basso
* Johnny Depp – chitarra
* Yves Bouhadana – chitarra
* vocals – "nessuno"
Suonavano rock semplice, pezzi solo strumentali o comunque non cantati. La loro maglietta aveva stampata una grande fiamma.
Dicevano di suonare solo un pezzo al carnevale della Sant Bartholomew's Catholic school, dove si diceva invece che suonassero 6 o 7 versioni strumentali dei Chicago's 25 e dei Lynryd Skynrd's Freebird.
Si vede Yves Bouhadana come uno degli intervistati nella biografia e nello special su Johnny Depp andato in onda su E! True Hollywood Story.
Zaphyre
Gli Zaphyre furono insieme tra il 1978 e il 1980, e si dicevano suonassero 100% melodie Van Halen. Johnny aveva anche descritto la band come "baciare della roba" (ndr ???)
* il cantante leader era un "David Lee Roth clone"
* Joe Quinones – basso
* Johnny Depp – chitarra
Suonarono almeno un'altra volta alla scuola Femminile Cattolica, la Madonna High School.

Bitch
Bitch furono insieme per un periodo tra il 1978 e il 1980, e si dice suonassero 90% " Van Halen tunes".
Nel 1980 parteciparono ad un'audizione per un talent show alla Miramar High School, probabilmente suonando il pezzo di Van Halen's " Show Your Love (aka I'm The One). " Non furono scelti perche' erano "troppo grandi ", e perche' nessuno di loro frequentava la Miramar High a quell'epoca.
Bad Boys
I Bad Boys furono insieme verso il 1980, e probabilmente suonavano un repertorio al "50% Van Halen tunes".
The Bad Boys , secondo quanto riferito, includevano un membro di nome Tommy Bircheat. Sal Jenco fu il presentatore della band e Barney Manaker li aiutò a a inserirsi in vari posti.

Stiff Richard
Stiff Richard era una band a Broward, South Florida, con cui si disse che Johnny aveva provato alcune volte verso il 1979.
David Dukes era il chitarrista della band. C'era anche un bassista, di nome Ted Sonnesso (cononosciuto come Fat Teddy) e un batterista
di nome Bob Beck. Non si sa se Johnny si uni' ufficialmente a questa band.
Leave a Reply
You must be logged in to post a comment.